Summary: MBOX is the file format of 25+ email clients operating on Windows, Mac, and Linux. Conversion of MBOX data to cPanel allows users to view desktop-based email clients data on web-based email management tools like Horde, Roundcube, and Squirrelmail. If you have a plan to access Thunderbird, Entourage, WLM, or any MBOX-supporting email clients on cPanel, the article can help you.
Explain about cPanel webmail and MBOX files
Define cPanel webmail and it's services
cPanel Webmail services (Horde, Roundcube, SquirrelMail) is a web-based email service. It is a web hosting control panel software to access and manage your email accounts through a web interface. Users can access data from anywhere with an internet connection.
A cPanel webmail lets users to send and receive emails, create folders, and organize their inbox. It supports set up of autoresponders and has spam protection feature. A cPanel email service supports several email protocols, including POP3, IMAP, and SMTP to let you integrate with email clients, such as Microsoft Outlook, Apple Mail, and Mozilla Thunderbird to perform data transfer.
cPanel webmail service is a suitable choice for website owners. It is easy to operate and manage. However, most cPanel services are paid.
Define MBOX file and its Componets
MBOX is a plain text file that can store emails with attachments. Users of Thunderbird, Mac Mail, PowerMail, Kmail, Netscape Mail, Spicebird, Google Takeout, Backupify, Postbox, Google Vault files, Claws Mail, Mulberry, and SeaMonkey are well familiar with MBOX file format.
Components of an MBOX File:
An MBOX file contains email headers.
An MBOX file can store a number of emails and separate them with the "From Line"
The email body can store signature, formatting, and images
It is compatible with attachments like, DOCX, PDF, ZIP, JPG, etc.
It stores user profile information.
Manual Steps to Import MBOX to cPanel:
You have manual approach to export MBOX to cPanel. Before you choose a manual step, we recommend you to keep the copy of the targeted MBOX file to avoid data loss.
A). Using Horde Webmail
You can export MBOX files into Horde webmail. For this, choose the locally saved MBOX files and upload them to your cPanel account. Here are the steps to follow-
1. Access to your Horde account, select the folder to right-click on it.
2. From the drop-down, select the Import option
3. Locate a specific MBOX file
4. Select the file & press OK.
Now, confirm whether the process has finished.
Related Post:- Import MBOX to Yahoo
B). Using Roundcube
In this step, we use another popular cPanel platform, called Roundcube to transfer data manually. Here the steps to follow.
1. Open your Roundcube account, press the Gear icon and select Import messages.
2. Select the required MBOX file that you wish to import and hit Upload.
The tool itself confirms the process is complete.
Limitations of Manual Solution
The manual process looks simple but it doesn't let you transfer a small amount data. If you have a range of MBOX files, you can use a professional solution.
Automated Backup of MBOX to cPanel (Horde, Roundcube, Squirrelmail) Webmail
Automated conversion of MBOX to cPanel is possible with the help of a third party application.
DailySoft MBOX to IMAP Converter can be the best alternative when you look for conversion of unlimited MBOX files to cPanel. It is a user-friendly application.
Steps to export Data MBOX to cPanel
After downloading the application, select MBOX File format
Press Next and Browse to upload MBOX files.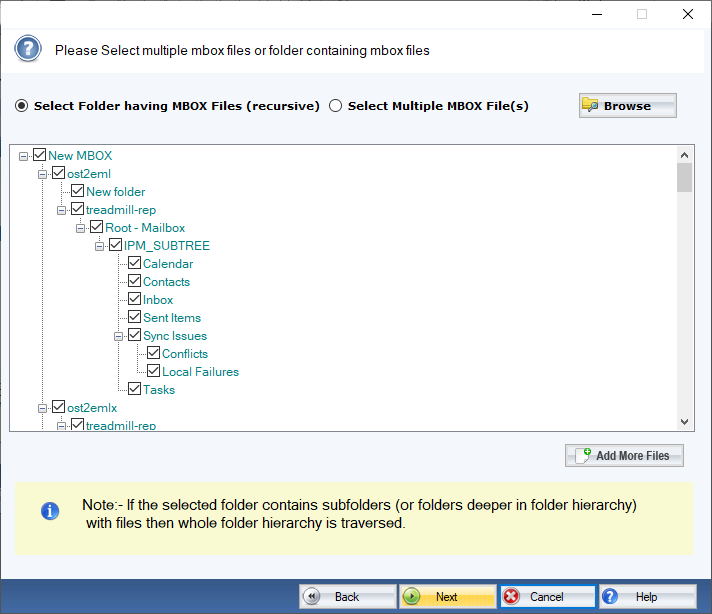 Add more files if you want and press Next
Upload to Remote Server option
Press Next and then select host, port, username, and password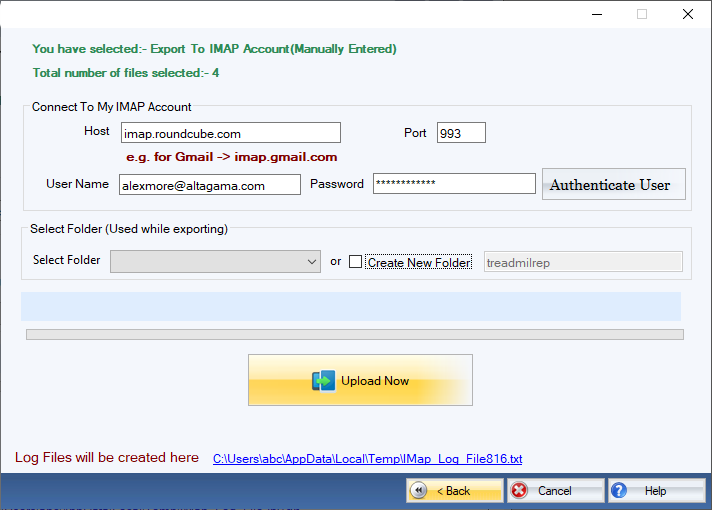 Click on Authenticate Users button
Select an existing folder to save data or create a new folder
Press the Upload now tab
Also Learn:- Open MBOX files in Outlook PST
(Note: During conversion, ensure that the internet is smooth and uninterrupted.)
Conclusion
In this post, we explained the full information regarding MBOX and cPanel webmail with solution to export MBOX to cPanel. A third-party utility is always a good alternative to a manual solution for conversion. You can consider a professional application.