Most of the users looking for HCL Lotus Notes to Office 365 Migration project plan, So if you are one of them, then you reach at the right place. Because in this post we explain the lotus Notes NSF to Office 365 Migration process. Let's continue the –
Office 365 is a new-age application. It is a suitable choice for small to medium and large organizations for the fastest email communication and storage. Users have many reasons to switch from a desktop email client to Outlook 365. The article focuses on some top reasons why users like to use Outlook 365 over other applications.
Advantages of Outlook 365
Outlook 365 is a Microsoft productivity suite that is available with various other applications like Word, Exchange, Teams, SharePoint, Excel, and more.
As it is a cloud utility, users find the app friendly to access from anywhere and any device like laptops, desktops, tablets, and mobile phones.
Data security is one of the primary features of the application because your data is stored in the cloud. The tool saves all your documents on the cloud. Even with errors in your system, you can access data on the cloud. Another primary reason is two-factor authentication. It prevents unauthorized access to your files. Its robust security identifies threats and anti-malware to take quick action against them.
Outlook 365 users enable to maintain smooth communication across Skype and Outlook. Skype allows users to conduct conference calls and meetings anywhere in the world. Teams support an instant messaging function where users can share comments and files at the same time.
Yammer is one of the social networks to establish communication on Office 365. The News Feed option helps instant messaging where organizations can keep workers up to date with the latest changes in their firms.
Automatic upgrade is one of the primary advantages of the application. Office 365 users don't need to upgrade it because the application automatically upgrades. So, your organization uses the latest versions of the app anytime. It reduces the expenditure of buying new applications.
Centralized collaboration is one of the best features of the app as it helps to share mailboxes, contacts, calendars, etc. It is possible to edit documents in real-time through collaborative tools. SharePoint enables collaboration. Multiple users can work on the same document.
The license of the application is flexible. Hence, users can get the app license as per their requirements.
Lotus Notes Disadvantages
Lotus Notes has various disadvantages that force users to choose an advanced alternative.
Lotus Notes and the Domino server need constant backups and updates.
It is not easy to operate Lotus Notes because minor changes in the system or a minor group creation require IT support.
Lotus Notes may slow down if you have several replicas of the app. Windows Defender prevents the startup of Notes.
Automated Conversion of Lotus Notes to Office 365
Lotus Notes is one of the best enterprise-based email applications for small to large organizations. Whatever reasons you have for conversion from Lotus Notes to Office 365, a third-party utility is the best alternative to manual conversion solutions. Dailysoft NSF to Office 365 Converter is one of the best third-party conversion utilities.
Why Should One Choose Dailysoft NSF to Office 365 Converter?
It is an all-in-one application for the conversion of multiple NSF files to Office 365.
The utility offers effortless conversion of entire databases of NSF files to Office 365.
Migrate Lotus Notes NSF Files to Office365 account after providing the credentials.
The tool displays the selected NSF files in its preview pane and lets users customize the conversion results.
The tool saves the exported data to an existing folder or lets users create a new folder for saving data.
It is a useful utility for conversion of as many NSF files as users want.
The license of the application is valid for an unlimited duration.
Below are Steps to Migrate Lotus Notes NSF Files to Office365 with the help of Dailysoft NSF to Office 365 migration
Download and launch the application on your system
Choose the mail source Lotus Notes for conversion
Select the required NSF files one by one or at once
Choose the format "Office 365" for conversion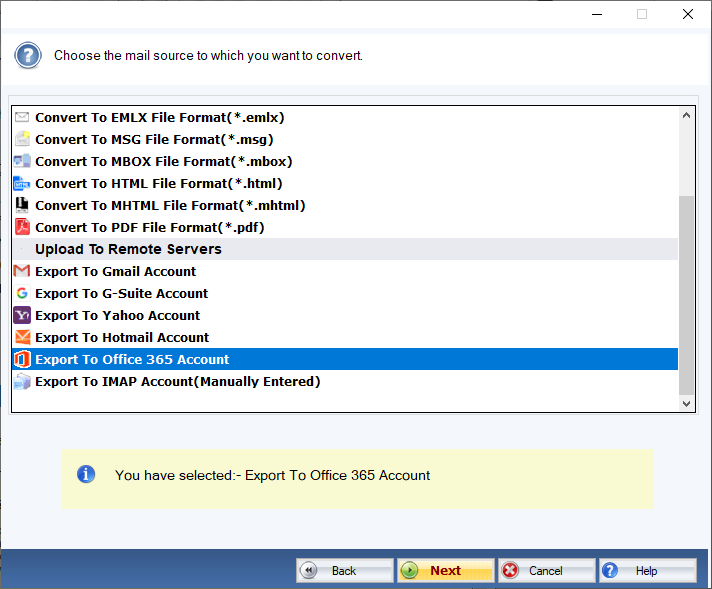 Press Next and enter the Office 365 credentials, choose the folder and press the Upload Now button
Conclusion
The idea of Lotus Notes to Office 365 Conversion is excellent. When you want to access databases from anywhere and anytime. For conversion, a third-party utility is an ideal solution, because no manual solutions are safe to practice.