In today's time, many email clients manage email data smoothly and effectively. MS Outlook is one of them which is very popular among users. By using this program, one can easily access their account data on their desktop without internet connection. MS Outlook is a professional application to manage personal information of a user's account like email messages, notes, contacts, calendars, tasks, etc. However, in most cases, PST file goes to an inaccessible state due to oversizing issue, virus attack, software/hardware fault, etc. In these cases, users need to switch to other email clients like Thunderbird, Windows Live Mail, Outlook Express, and so on. To switch from Outlook to these email clients need to convert their email account data to the supported file format i.e. EML.
In this post, we will discuss how to switch from Outlook to Windows Live Mail, Thunderbird, Outlook Express, and other EML supporting email clients.
Learn How To Convert PST Data To EML With Outlook Express
By using Outlook Express, PST file data to EML file format is exported. If PST file is not configured in Outlook then first you have to add PST file to the client. You can easily open PST file to MS Outlook by using 'Open' option of MS Outlook. Users can simply open PST file in MS Outlook by following easy steps: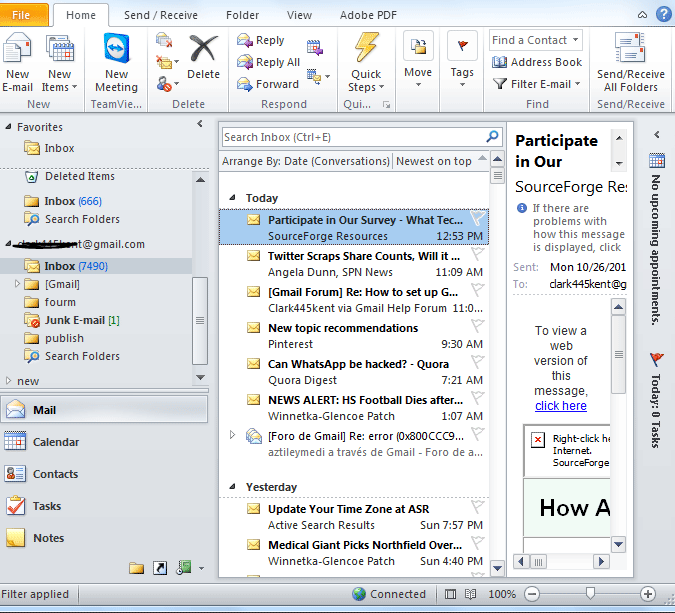 Go to File button and select Open option from drop down menu.
Click on Open Outlook file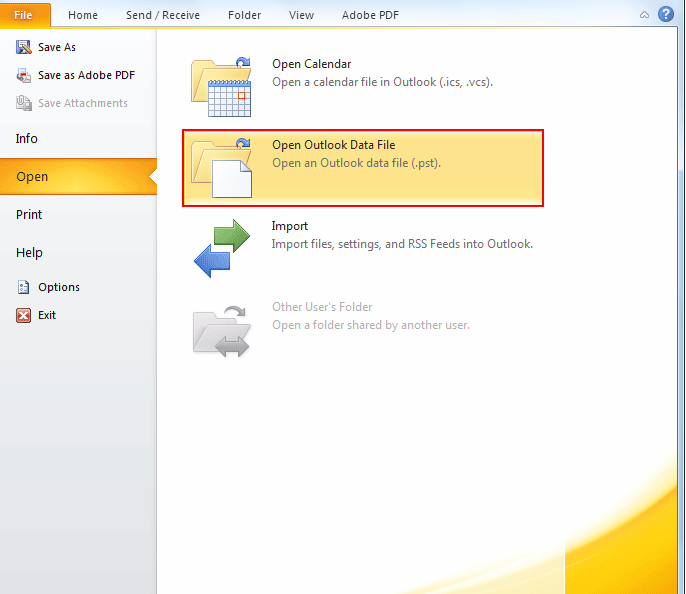 Browse location of PST file and choose it.
After choosing PST file, click OK to add PST file into Microsoft Outlook.
Now Import This Data To Outlook Express
Select Import button from the menu
Now, choose message option from submenu options.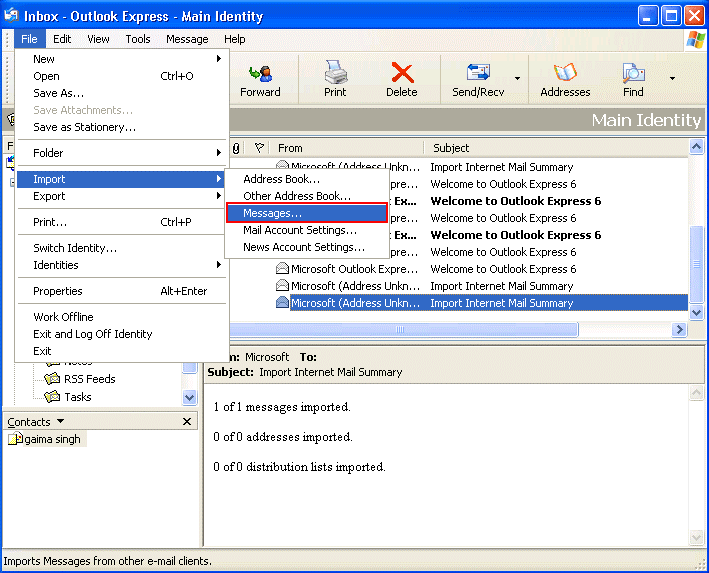 In new pop-up window is opened namely Outlook Express Import. Select MS Outlook from 'Select Email Program to Import From'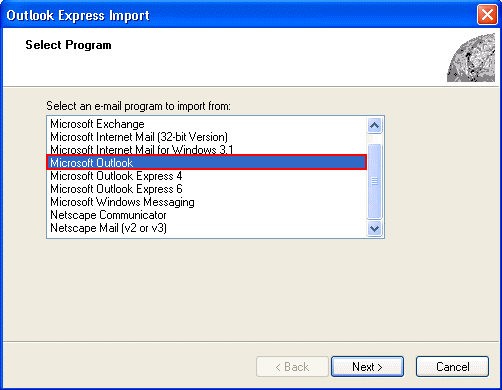 Select MS Outlook and then click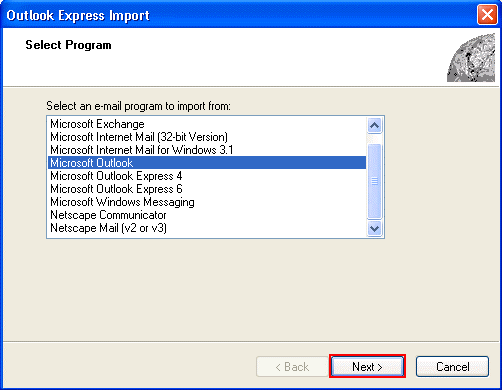 Choose All folders or select all folders. You can choose them as per your needs. Then, click Next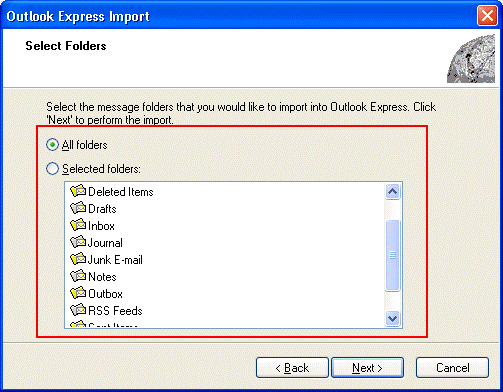 After this, the process will begin.
Once the data is imported into Outlook Express, you will receive a message of completion. Click on the Finish button.
After this, all your Outlook data is imported into Outlook Express. You can easily access this Outlook data into Outlook Express. Now convert these emails into EML file format by using drag & drop method. You can select multiple emails and after that drag & drop these emails to your required location. This will save these emails as EML files.
Note: The above discussed manual solution works only with Windows XP because Outlook Express client is limited to Windows versions including XP. Also, you can perform this task when you have both MS Outlook and Outlook Express configured on the same machine.
Convert PST Emails Into EML File Using Thunderbird Application
Thunderbird, a free cross-platform email client is developed by Mozilla foundation comes with friendly interface and amazing features to manage all emails. By using this email client, one can easily convert Outlook PST file emails into EML file format.
Steps To Convert PST Mailbox Items To EML Using Thunderbird
For using this method, you need to ensure that MS Outlook and Thunderbird is properly configured on the same machine. If both email clients are available, you can easily convert Outlook data to EML file format by following these steps –
Open Mozilla Thunderbird application
Select Tools option from menu options. After that, click on Import option from drop-down menu.
Import pop-up window will appear. Here, you will find two options, Import Everything or Select the type of material to import.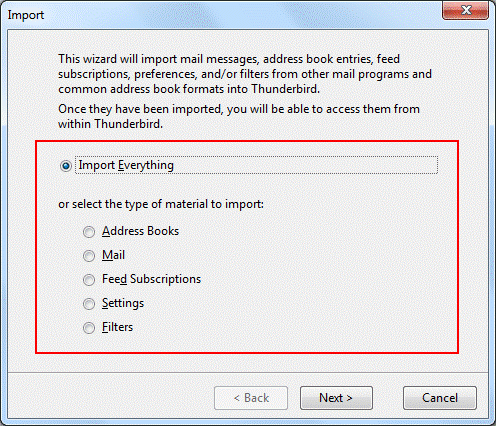 Select Option 'Import Everything' and then click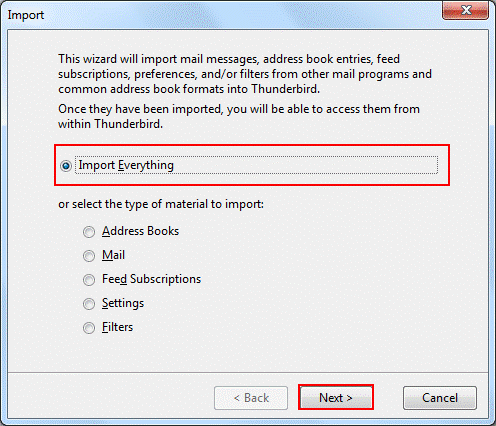 In next window, select Outlook and then click on Next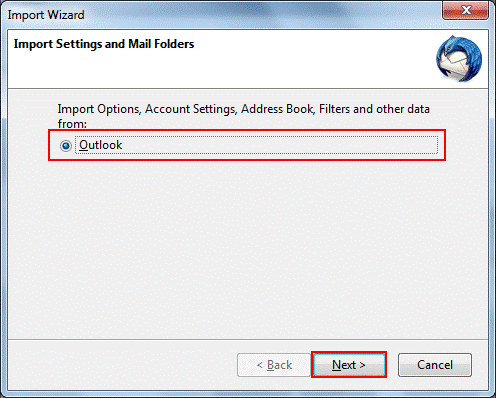 This will start the process and it will take time according to database size.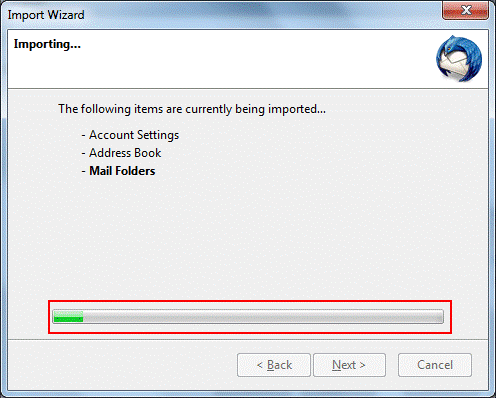 When the process is complete, select all mails then right-click & select Save as
Now, browse the folder to save EML files.
This is how you will get all Outlook emails into EML file format.
After this, you can use EML files according to your needs.
These are two manual methods for exporting Outlook file data into EML file format. These two methods are simple to us. In the next section, we will discuss an alternate quick and simpler solution to do the conversion.
Alternate Solution To Convert PST Email Items Into EML File
To use the first manual method, you need Windows XP to have Outlook Express. Windows XP is older version of Windows OS hence chances of getting this very less. People have upgraded to newer Windows versions. In the second manual method, configuration of Mozilla Thunderbird mandatory. Moreover, this method is lengthy & time-consuming. Therefore to save your data & for secure way of conversion, you can go with DailySoft PST to EML Converter Software. It is a powerful and effective solution to convert bulk PST files with attachments into EML file format. By using this software, one can convert Outlook emails into EML file format on Windows 11, 10, 8.1, 8, 7, etc. Moreover, this software easily performs the conversion without any data loss issues. You don't need installation of any email client on your system to complete the conversion process.
Steps To Convert Outlook PST Data Items Into EML File
Download this Outlook to EML Converter Software on your latest Windows 11 or others
Select Personal Storage Table (.pst) under File Formats and Click Next.
3.  Select Folder or File i.e. PST by using the Browse Then, click on Next button.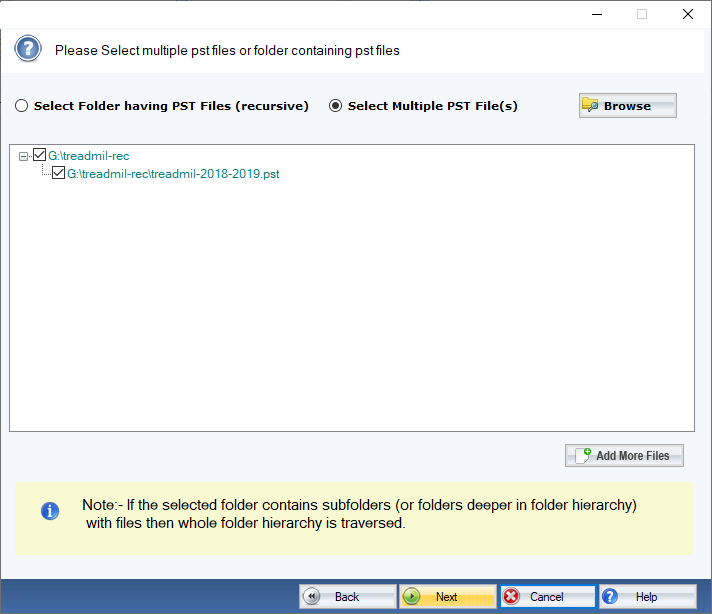 4. This will add PST file. Now, select EML file format under Export Options. Then, click
5. Hit the Browse button and specify path for saving EML files.
6. Press the Convert Now button for starting the conversion process.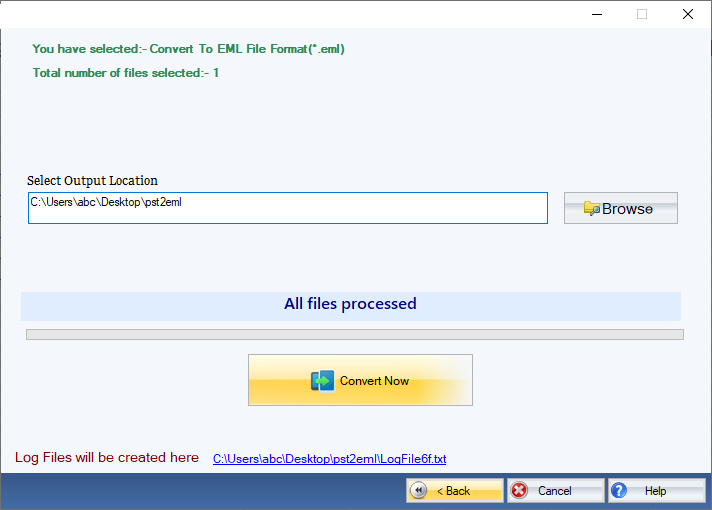 Reasons To Stick To This Professional PST 2 EML Converter Software
The software is equipped with various advanced features to safely and quickly convert PST database items into EML file format. Let us know some major benefits offered by the software –
It supports bulk conversion of PST files into any EML supported email clients.
The software safely export attachments to EML file from PST file and keep email components preserved.
There are no barriers on file size & number of PST file to convert with this software.
You even don't need Outlook or any other email client configuration on your system to use this automated solution.
This utility supports ANSI, Unicode and password-protected PST files to export into EML file format.
You will get the conversion results immediately and safely by this smart & intelligent software.
There is no disturbance to PST file structure while exporting its data into EML file format.
You are free to run this software on latest Windows 11, 10, 8.1, 8, 7, and below versions without any problems.
Get a free tour of the demo version & evaluate it before you get the license keys.
Conclusion
Through this post, we have learnt how users can convert data of Outlook PST file into EML file format. For this, the post has offered two manual solutions which are lengthy and time-consuming. Moreover, they are not appropriate to use in all situations. Hence, an automated solution is provided for quick, smart and safe conversion of Outlook data file into EML file format. This software is fully independent & secure to use on all the latest Windows versions. Its friendly interface makes it the first choice of users, Try it with free evaluation copy.