Summary: Are you planning to Export AppleMail EMLX into PDF format with Attachments? You search is over here. The article provides reasons to export from EMLX to PDF and some effective solutions to export EMLX files to PDF.
EMLX is a file format of Apple Mail to store email messages. It is somewhat similar to EML file extension, but has contained some differences in the file structure.
An EMLX file can store one email message with its meta properties, like sender, recipient, date and attachments. It automatically stores in a library folder of your Mac system. The folder is best known as Mail.
PDF, on the other hand, is a file format to store data to make sharing and archiving easy. A PDF file can hold text, images, graphs, and tables. When you choose to export EMLX to PDF, the tool exports emails with its body and meta properties to PDF. You can access emails with their attachments on PDF. Adobe Systems launched the file format in 1990. Hence, it is one of the oldest file extensions. The file extension can access on your system or portable devices without restriction. It is a lightweight and secure than EMLX. Users can encrypt PDF files to prevent unauthorized access.
Reasons to Export EMLX to PDF
We have listed some inevitable reasons that encourage users to switch from EMLX to PDF.
Portability: We all know that PDF files are portable. They are easy to access on any device. They don't require specific applications to open. Windows, Mac, Android, and iOS users can access PDF files. Hence, by converting EMLX files to PDF, you can access Apple Mail's data on any device.
Easy Archiving: PDF files are independent. You can covert PDF files into Words or Words into PDF. By converting EMLX to PDF, you can archive important documents. It is good for archiving data. During conversion, it restores formatting and appearance of files. Even you are not using Apple Mail, you can access its data after transferring EMLX to PDF.
Printing: Sometimes, you need a hard copy of an email. By converting EMLX to PDF, you can make printing of EMLX data easy. It is become handy to print an EMLX file.
Sharing: EMLX files are not friendly to share. However, PDF files are very friendly for sharing through emails, Bluetooth, and chat devices. The handy file format allows you to share your Apple Mail data conveniently. It is 100 times easy to share a PDF file than any other file formats.
Tips & Tricks:- Convert Outlook emails to
Manual Conversion of EMLX to PDF
There are two ways to export EMLX to PDF. One is a third-party app and another is a manual solution. If you have a few EMLX files to export to PDF, the discussed-manual solution can help you. Follow, the given steps. Ensure to keep the copy of the exported EMLX file because no manual solution gives guarantee of accuracy.
Access your EMLX file on your Apple Mail application
Hit the File tab and choose "Print", or press the shortcut key "Command + P"
The print dialogue box opens, click on the "PDF" from the drop-down menu visible on the left-lower side and press "Save as PDF"
Provide the desired output location and a unique name to the file.
Finally, press the Save tab to complete the process.
Third-Party Solutions for Conversion of EMLX to PDF
You have several third-party applications to export EMLX to PDF. However, your primary concern is to look for a reliable application. DaiySoft AppleMail EMLX to PDF Exporter is one of the best applications to download on your Windows 10 system. It is an award-winning application to export specific EMLX files to PDF.
Primary Features of DailySoft EMLX to PDF Exporter
The application enables conversion of single or multiple EMLX files to PDF. Users have flexibility to select and export one to a hundred EMLX files to export them at once. It is a significant feature of the program. Bulk conversion saves time and effort of users.
The app is independent. It doesn't need any external solution to convert data. You, in other words, don't need to install Adobe Acrobat and Apple Mail for conversion.
The utility offers conversion of EMLX files to any size to PDF. There is no file size limit.
During conversion, the program exports emails with all their attributes like CC, BCC, To, and From. It also exports emails with their attachments.
 The application licensed version offers unlimited conversion. Users can able to use the app as long as they want.
Its free demo version is available to download to experience the functions of the app.
How Does It Work?
The application simplifies the conversion goal.
Download and launch the application on your Windows system
From the given list of file formats, choose "Select EMLX File Format" and hit Next
Select the file mode or folder mode, then click on the Browse tab to select local EMLX files
Press Next and select the output format "Convert to PDF File Format"
Again click the Next tab and click on the Browse tab to provide file destination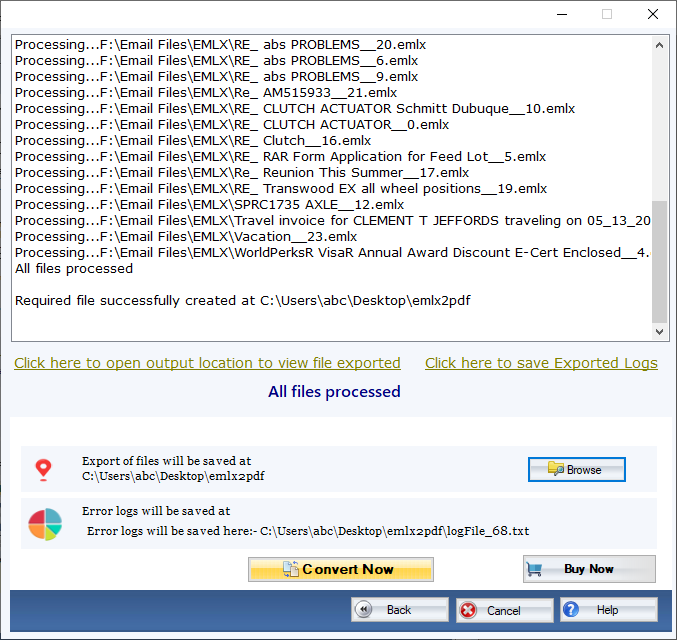 Press the convert button finally
Conclusion
In the end, using a third-party program to convert Apple Mail to PDF is the best choice. Be careful when choosing a converting application. Don't forget to use the application's free demo trial. You won't have to deal with the trouble of returning the item.