Summary: EML to Mac Mail is one of the wisest decisions if you want to switch to an advanced cloud application. If you are wondering how to export from EML to Mac Mail, the article will help you out.
EML is the file format of 20+ desktop-based email clients. Mac Mail supports EMLX and MBOX file formats. EMLX is the default file format of Apple Mail. You can choose to export EML data in EMLX manually or automatically.
Reasons to Import EML Data on Mac Mail
You can require conversion to consolidate data. If you have multiple email accounts across different platforms like Thunderbird, Entourage, WLM, etc. by exporting EML files to Mac Mail, you can consolidate your emails into a single platform. It helps you to manage and organize data conveniently. It can reduce the data mismanagement and missing chances.
Mac Mail is a free cloud application of Mac systems. EML supports desktop-based applications like Thunderbird and Entourage. If you want data privacy and preservation, you can choose conversion of EML to Mac Mail. You can protect your data against data loss due to hardware failure, software crashes, or other issues.
After EML to Mac Mail conversion, you can access EML or Thunderbird data on various Mac devices like iPhone and Mac computers. It provides real-time access of your important data.
Mac Mail is an advanced tool. Its attractive features include smart folders, conversation view, and integration with other Mac applications. By exporting your EML files to Mac Mail, you can enjoy these features to make email management easy.
Conversion of EML to Mac Mail with EML to EMLX Converter
Below are the steps that combine manual and automated solutions to export EML data to Mac Mail.
DailySoft EML to EMLX Converter is one-stop to export selective EML files to EMLX. The conversion program enables users to transfer selective EML files to EMLX.
Significant Features of DailySoft EML to EMLX Converter
The utility supports bulk data conversion where users can choose as many EML files as they want to export to EMLX file format.
It is a self-descriptive application to run and convert data with top accuracy. The program never lets you to do mistakes in the conversion process.
After conversion, the exported data saved to a local address to access anytime.
This is an independent program. It doesn't require prior installation of Thunderbird or any other applications for conversion.
The licensed version of this app is available to use for an unlimited duration or as long as you desire.
Conversion accuracy is retained by the app. It doesn't modify the converted data. All emails with their attachments are exported with accuracy.
The licensed version of the app is valid for unlimited years. You can use the app as long as you desire.
It is a lightweight and bug free application to install and run on your system.
Steps to Operate the App
Download and launch the application
 Select the source format "EML File Format" and press "Next"
 Choose the mode- Select Folder having EML files or Select Multiple EML Files, hit "Browse"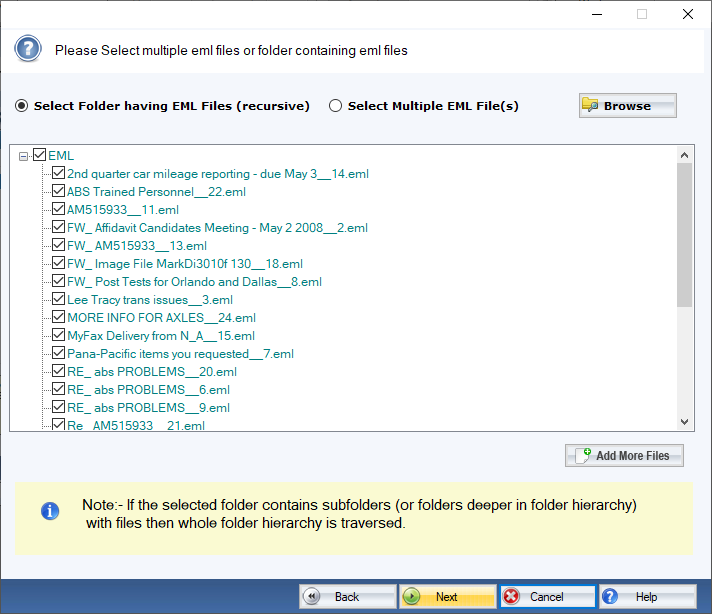 Take a look at the selected EML files, you can deselect any that you don't want and press "Next"
After that, choose "Convert to EMLX File Format" and then "Next"
Press the "Browse" tab and select the required destination to a local folder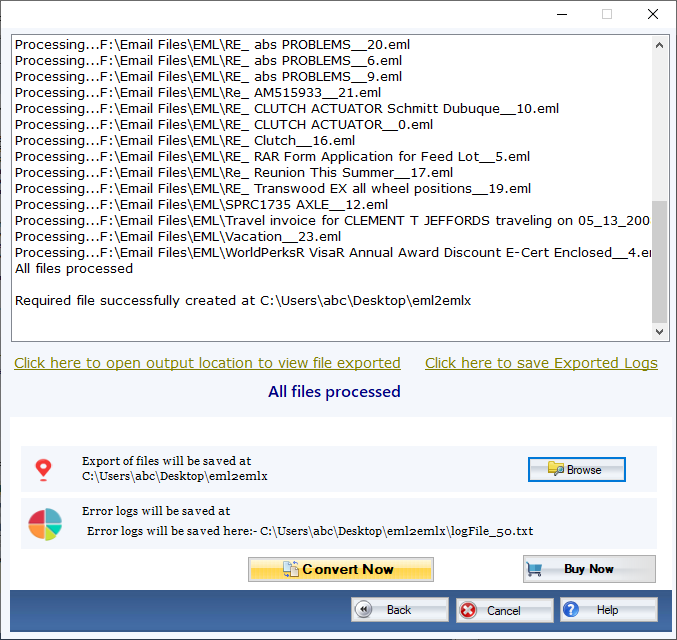 Press the Convert Now tab
Open EMLX Files on Mac Mail on Your Mac System
Launch Mac Mail on your system.
Go to "File, then select Import Mailboxes"
Choose "Files in EMLX format" and hit "Continue".
Select the recent EMLX file and hit "Choose"
Choose more than a single EMLX files if you want
Mac Mail will now ready to open the EMLX data. Depending on the EMLX files' size, the tool takes time to open EMLX data.
Tips and Tricks:- Transfer AppleMail to Outlook 2021
Note: If the import process doesn't work, it means the EMLX may be corrupted. You can take help of a third-party utility to repair the particular EMLX file.
Conclusion
Overall, you can open EML file data in Mac Mail with the help of a third-party program. Manual conversion is tricky to follow. It can lead to data loss. A third-party program makes the conversion process swift, easy, and fast.