Summary: Your search for the best ways to export Thunderbird to PDF can end here. The article serves reasons and ways to transfer Thunderbird files to PDF.
Thunderbird is one of the most famous email clients. It supports Windows, Mac, and Linux. Thunderbird has incredible features that make it a sufficient application for small businesses and individuals for email management. The email client saves its data in MBOX and EML file formats. These file formats are flexible because they support 20+ email clients. If you have received an MBOX/EML file, you can open them with the help of its supportive email clients or MBOX/EML viewers. Therefore, MBOX and EML are not suitable for data archiving and sharing.
Conversion of  MBOX to PDF is one of the best ideas because PDF files are accessible with any operating system and device.
Reasons Why Users Like to Move Thunderbird to PDF
When you choose to move Thunderbird data to PDF, you can achieve the best conversion results. PDF files preserve the formatting and layout of Thunderbird data. It can retain the original structure.
Thunderbird file formats support desktop-based email clients. They are not accessible on portable devices like Android smartphones and iPhones. In this context, the conversion of Thunderbird to PDF is beneficial. PDF files are compatible with all operating systems and portable devices. A PDF file is easy to share and use.
An MBOX file can store multiple emails but is not secure. PDF files are password-protected and encrypted. You can make them protected from third parties. Hence, PDF is an excellent file format to store and share sensitive information.
If you are going to discontinue Thunderbird, you can move Thunderbird data to PDF file format. PDF files are lightweight and offer high-quality storage of data. You can archive your Thunderbird data in PDF for future use.
Also Read:- Convert EML to PDF with Attachments 
Manual Conversion of Thunderbird to PDF
Manual conversion of Thunderbird to PDF can be possible. However, no manual solutions give assurance of data accuracy. You may lose file quality if you make a single mistake during the conversion process. Technical assistance may require if you are a novice. The below manual conversion process doesn't support the conversion of Thunderbird attachments to PDF. You can only export emails, not attachments. The only advantage is that it exports data free of cost.
Download the ImportExport Tool which is an add-on.
 Now, open Mozilla Thunderbird and select the "Add-Ons" option from menu.
Now, hit the "Settings" and select "Install Add-On from file" option from here.
Now, select the (ImportExport Tools) add-on and hit the "Open" button. After that, press the "Install Now" tab to download the Add-On in Thunderbird.
After that, restart Thunderbird. Select the desired mailbox and then ImportExport Tools >> Export all messages in the folder >> PDF format. It is how the process will complete.
(Note: the above manual method doesn't carry attachments. If you want emails with attachments, you will have to find an alternative solution.)
DailySoft Thunderbird to PDF Converter- An Automated Conversion Program
As you have noticed, manual solutions are not reliable to export Thunderbird to PDF. In this situation, you can replace a manual solution with a third-party program. Options for third-party solutions are many. Here you can confuse.
Therefore, we have selected a valuable program by looking at its ratings and data accuracy.
Download DailySoft Thunderbird to PDF Converter! It is a significant app for the conversion of multiple Thunderbird data to PDF. The tool supports a straightforward interface. You hardly get confused running the program singlehandedly.
Significant Features of Thunderbird to PDF Converter
It is a Windows application and lightweight to use.
The application doesn't require prior technical knowledge to run.
The steps are easy to follow and do not confuse users.
The utility exports data in four easy steps.
It is a one-stop application to export data from the Thunderbird directory, MBOX files, and EML files.
The program can export MBOX files of any size. There is no file size restriction.
It attempts the conversion of emails with their attachments.
It enables bulk data export features where users can select single, double, triple, and multiple MBOX files, Thunderbird directory data, or EML files.
The licensed version of the tool is valid for lifelong. It means you can choose the app to run as long as you desire.
It is an independent program and doesn't require the installation of Thunderbird, Adobe Reader, Adobe Acrobat, or any tool.
Steps to Operate the Application
Download and launch the application
From various options choose "Select Thunderbird Directory Location"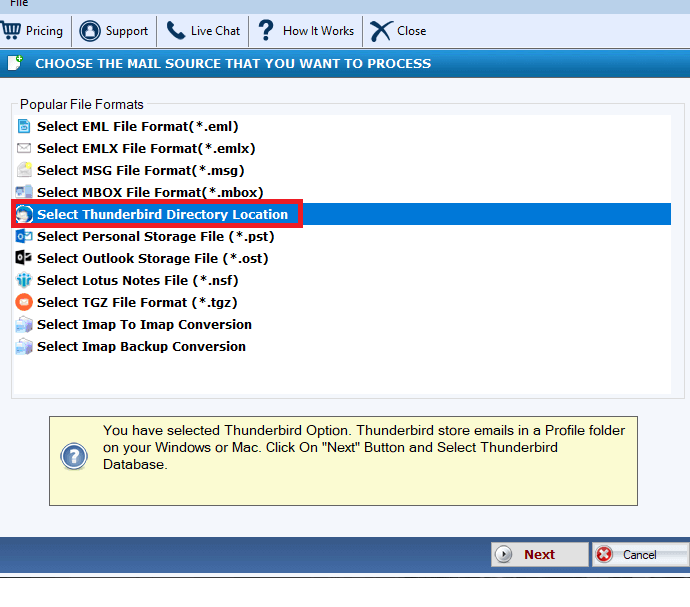 Select either "Load Thunderbird Default Location" or "Load Thunderbird Location Manually" and upload files.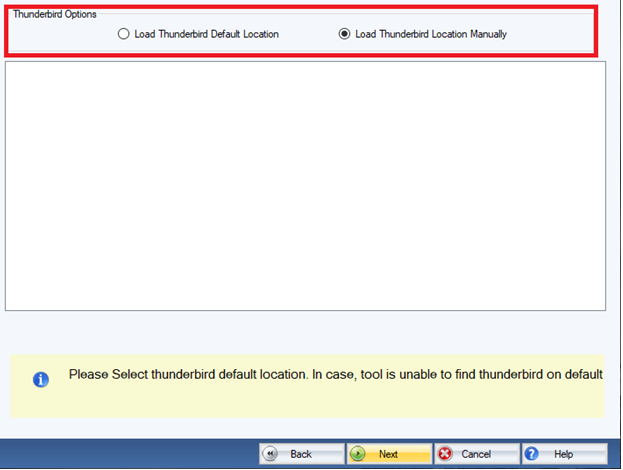 Press Next and select "Convert to PDF file"
Press Next, choose the output location by clicking on the Browse tab and then hit the "Convert Now" tab to complete the process
Final Words
Manual conversion methods are tricky to follow. There is a chance of data loss. You can prevent your data from loss by using a third-party professional application. The suggest tool is reliable to use for conversion.