Do you want to know the process to import EML files into Outlook 2019, 2016, 2013, 2010, etc.? If so, you will get quick answer of your query in this blog. Here, we will share top solution that will helpful for you to import EML emails into Outlook application.
In Microsoft Outlook, all data including emails and others is stored in a single PST file. So, whenever users switch from any EML based email client to Outlook, it needs importing EML files into PST file. This guide is all about discussing 'how to import EML files into Outlook.'
To perform the conversion, users have two possible solutions – one is manual method and other is automated. Here, we will discuss both so that users can easily import EML to Outlook 2007, 2010, 2013, 2016, and 2019. Before this, let us have a look at necessity behind this import.
Necessity To Import EML Emails & Attachments Into Outlook
Prior we share the methods to import EML files into Microsoft Outlook, the question arises is why users need to import EML data files into Outlook PST file. Here are some basic reasons mentioned below:
EML files are single email files that can be easily affected by malware or other virus attacks. Exporting them into PST files can benefit you in protecting valuable emails from corruption.
EML file is accessible in any email client that supports this format. Whereas PST file will easily open in all MS Outlook editions.
EML file holds single mail information. It is quite hard to maintain various EML files. If you convert them into PST file, then it becomes easy to manage them at Outlook.
If you choose MS Outlook your default email client, then you need to move all existing EML emails here.
These are the reasons that attract users for importing EML files to useful PST file format.
Manual Methods To Import EML Files Into MS Outlook
EML file format is well supported by multiple known email clients like Windows Live Mail, Thunderbird, Outlook Express, etc. But to access EML data files in Outlook, it is necessary to export EML files into MS Outlook PST file format. Here, we will show you the manual process to import emails from Thunderbird, Outlook Express, and Windows Live Mail into Outlook. Before starting the process, let me clear that Outlook application should be installed to use manual method. If you want to import emails of Windows Live Mail or Outlook Express, etc.  into Outlook, follow the mentioned instructions:
Method 1. Using Windows Live Mail
Open Windows Live Mail program.
In Windows Live Mail, click on File menu and select email messages from Export Email option.
Choose Microsoft Exchange from Select Program section and click Next.
A new message window will appear on the screen for confirming export of messages. Click OK to continue.
Select the email folders which you want to export and click OK.
A new window will appear on the screen showing progress of the export.
A wizard will appear for Export complete, click on the Finish button.
Method 2. Using MS Outlook Application
This method is useful when EML files are stored separately on the computer and no EML supported email client is installed on the system.
Open MS Outlook on your system
Navigate to the saving location of EML files.
Drag the selected EML file.
Put it into Outlook application
In this way, users can view EML files in Microsoft Outlook application.
Method 3. Using Outlook Express
For importing EML data files into Outlook, first configure EML files with Outlook Express by dragging. Once configured, follow the discussed steps:
Start Microsoft Outlook on your system.
Go to File tab and choose Open & Export.
Click on Import/Export.
Select Import Internal Emails and Addresses, choose Outlook Express, Next, and then click on Finish.
Limitations of Manual Approaches
The above mentioned manual ways to import EML emails into Outlook are completely free. But they have some limitations that are discussed here:
There is high probability of data loss with manual method. The risk of data loss is high and a single wrong step can lead to severe data loss.
Email attachments may lose while exporting into Outlook file.
In case users have many email files, this process becomes lengthy and time-consuming.
The loss of data integrity is high with manual methods.
Third-Party Software To Import EML Database Into Outlook
To get rid of limitations of manual approach and to find a simple yet reliable solution to complete the task, we suggest users to use DailySoft EML to PST Converter. This is a multi-featured utility designed for the direct import of EML data files into Outlook PST file. It does not have any size limitations and risk of losing attachments during the conversion task. The best part of thus utility is it is fully standalone i.e. you can convert EML data files into PST without using MS Outlook.
Steps To Directly Import Bulk EML Files Data Into Outlook
Step 1. Launch this Program to import EML data into Outlook PST file.
Step 2. Browse and upload EML files from your system. Click Next.
Step 3. In Mail source in which you want to import EML files, choose Convert to PST format.
Step 4. In next window, hit the provided Browse button and set destination path to save the resultant PST file.
Step 5. The last step is to begin the conversion process by click on Convert Now button.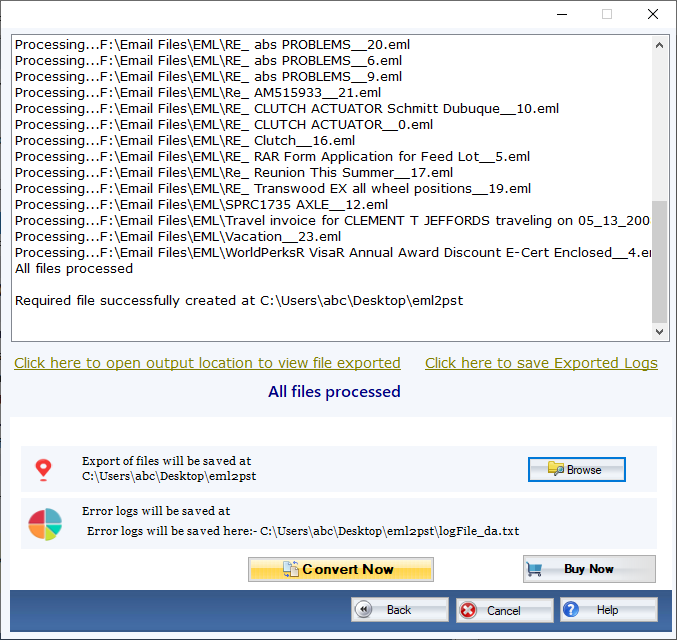 This is the way how quickly this professional software imports EML data items into PST file format to use in MS Outlook 2019, 2016, 2013, 2010, 2007, etc.
Conclusion
Outlook is well-known desktop email client which is more secure and functional. This is the reason why users are importing EML files into Microsoft Outlook email client. Hence, here we have discussed manual and automatic solution to import EML 2 Outlook. Unfortunately, the manual procedure has some limitations and possibility of data loss. So, to make this task easier, it is advised to go for automated tool. You can download the software for free and see how it works.