Summary: This post will outline reasons and solutions to convert MBOX files into EML file format. It will provide you two ways – manual and automated tools to convert mailbox data to EML file format. But before this, let us know the reasons to perform this conversion.
Why Convert MBOX Data Files To EML File Format?
Below are some reasons due to which users prefer converting MBOX data items into EML file format:
Better Compatibility With Email Applications
MBOX file is not compatible with email clients like MS Outlook, Windows Live Mail, DreamMail, etc. But EML file is highly compatible with all these email clients and others as well.
EML Files Are Easily Opened With Browsers and Text Editors
EML file has similar formatting like MHT file. Due to this, it can be easily opened in Internet Explorer, Mozilla Firefox, and Opera browsers by converting into .mht format. You can also view EML files using a text editor like Notepad or any other. On the other hand, MBOX files can't be opened in browsers and text editors.
How To Convert Thunderbird MBOX Data Items Into EML Files?
Following are two methods that you can use to convert emails to EML file from MBOX files.
Method 1. With 'Save As' or Save Selected Messages' Option
Use any of the following options to save single or selected MBOX email messages into EML file format.
Steps With 'Save As' Option
Right-click individual messages or choose all email messages by pressing CTRL + A. Now, choose Save As from the options.
In Save Message As window, choose the folder where you wish to save the files, and then click on Save.
This, by default, saves the messages with EML extension at desired location.
Steps To Use 'Save Selected Message' Option
Select Right-click single message, or press CTRL + A to select all email messages that you want to export.
Choose Save selected messages and then click EML format.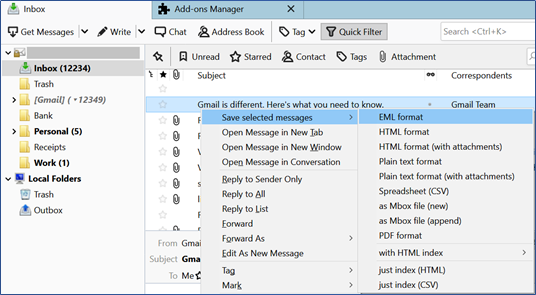 In destination directory window, browse and choose folder to save EML files and click on Select Folder.
Method 2. Use ImportExportTools Add-On
Mozilla offers an add-on i.e. ImportExportTools to save all Thunderbird messages into EML format. You can download & install it. After this, follow the given steps:
Open Mozilla Thunderbird.
Click on Tools and after this, go to Add-ons.
In Add-ons Manager page, choose ImportExportTool under Featured add-ons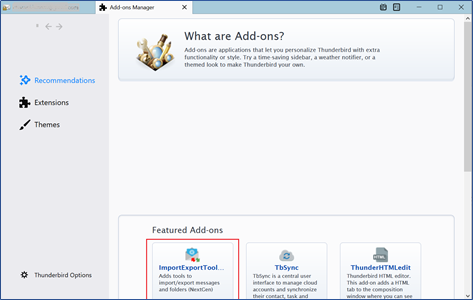 Click Add to Thunderbird for adding the add-on.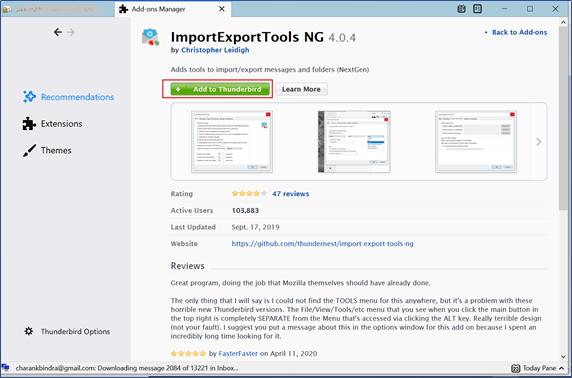 Add ImportExportTools NG message is appeared, click
After adding the tool, click Restart Now to restart Thunderbird application.
After restarting Thunderbird, right-click the folder which you want to export.
Click ImportExportTools add-on, Export all messages in the folder and choose EML format.
Select destination directory window is displayed. Choose the folder where you want to save EML files and then choose Select Folder.
Open the exported folder from the destination path. Right-click the messages folder, and select Open With to open messages in your required application.
Difficulties Faced By Users With Manual Methods
There are few challenges associated with manual methods:
You can export single email message at once.
It does not ensure mailbox hierarchy maintenance.
ImportExportTools add-on can export a single folder in EML file format. To use this method for exporting all MBOX emails folder is very time-consuming.
Users must have technical knowledge to understand manual solutions.
How Users Can Overcome Challenges Faced With Manual MBOX Data To EML Conversion?
To overcome challenges of manual solution, it is suggested to use third-party solutions. One such smart solution is DailySoft MBOX to EML Converter Software. This software is too simple to use without getting any technical training. In a few minutes, any number of MBOX files is successfully converted into EML file format.
Here is how the software works:
Install and Open the software to convert MBOX format files into EML file format on any Windows system.
Choose MBOX File format and press Next to go ahead.
Pick Folder or File mode and Browse MBOX files. Then, hit
Select Convert to EML format and click Next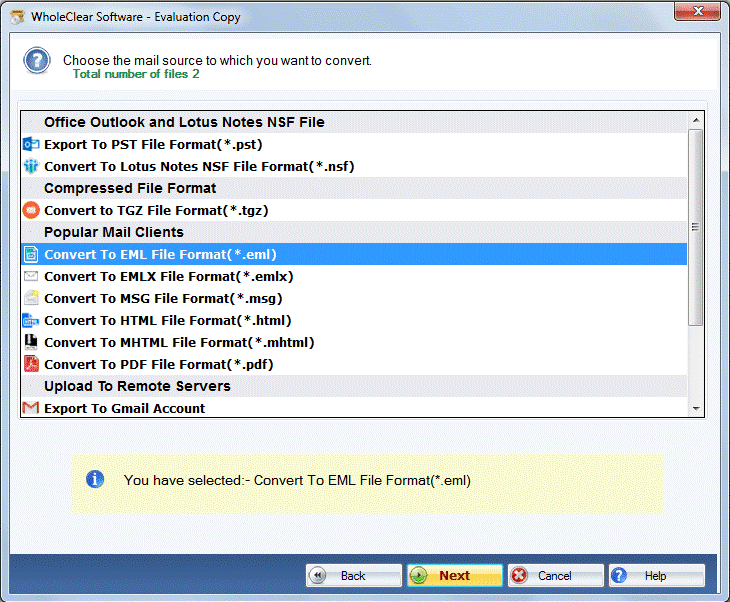 Use the given Browse button for specifying location for saving EML files.
Finally, hit the Convert Now button to begin the data conversion process.
Within few minutes, you will get EML files as output.
Benefits of Professional Tool Over Manual Methods
A lot of excellent features are provided by the software which makes it first choice of users over manual solutions.
The software directly converts all MBOX emails into EML file format.
It preserves all attachments and email components throughout the conversion process.
You will surely get 100% accurate results without risk of data loss.
This program exports MBOX files of all email clients into EML file format.
It facilitates bulk conversion of MBOX mailbox files into EML format.
Capable of performing Thunderbird to Windows Live Mail Conversion.
This utility comes with simplified interface to handle comfortably by novice users.
Free demo version is there to check out its overall performance.
No additional software installation is required to perform the conversion.
Conclusion
The need to access MBOX messages in Windows Live Mail, Outlook and other email clients arise need to convert MBOX data items into EML file format. Therefore, for performing this conversion, this post discusses manual and professional solutions. Manually, it is lengthy & time-consuming. Moreover, bulk conversion is not supported by manual methods. Due to this, automated solution is advisable to use for instant, safe and bulk conversion. You can judge the software performance by downloading free demo version. Then, apply for desired license as per your needs.