Summary: Thunderbird and Office 365 are two different platforms for email management. However, Office 365 is more advanced than Thunderbird. Therefore, users want to move from Thunderbird to Office 365. Manual and automated solutions can help you to fix the problem.
A Quick Overview on User Queries to Migrate from Thunderbird to Office 365
Quick Glance: Mozilla Thunderbird allows users to keep data in MBOX file format. However, MBOX doesn't support Office 365. Therefore, there is no direct solution to export Thunderbird to Office 365.
"I am using Thunderbird for years. Now, I want to switch from Thunderbird to Office 365 for better support. Unfortunately, technical assistance is so high. What should I do?"
Several similar queries have been shared by Thunderbird users where they want to switch to Office 365 or MS Outlook.
Manual Solution to Export Thunderbird Emails to Outlook 365
The manual solution we provide here has two segments.
Step-1  Export from Thunderbird to Outlook for pc and import data to Office 365
Open your Thunderbird application
Select the folder you wish to export to Outlook 2010, 2019, or the version you are using.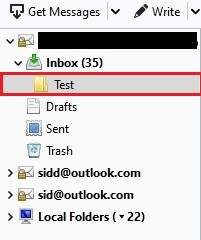 Select the email data files and hit "Save As".
Save the output to desired location in your system.
After that, close Thunderbird and access MS Outlook to create a new folder and give it a unique name.
Apply the drag and drop feature to drop emails to the new folder.
Step-2 Export Outlook to Office 365
In this process, first you need to configure MS Office 365 to MS Outlook. After that, you will use the Import/Export feature.
Here are the steps to follow-
Access your MS Outlook app. Navigate the File menu and hit the Open & Export option and then choose the Import/Export option.
Choose the Import from another program option from the wizard and press Next.

From the Import a File wizard, choose Outlook Data File (.pst) and click Next.
Browse the newly created PST file and hit Next.
Choose the required option to replace duplicates and hit Next.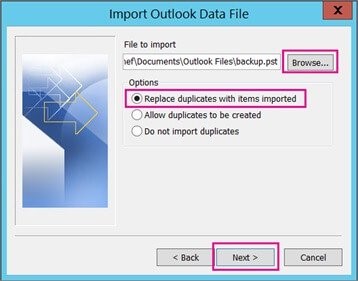 Note: If you have the file, unlock it by providing credentials and press OK
 From the Import Outlook Data File wizard, select the radio button near to the Import items to the same folder option and choose Microsoft 365 mailbox, hit the Finish tab.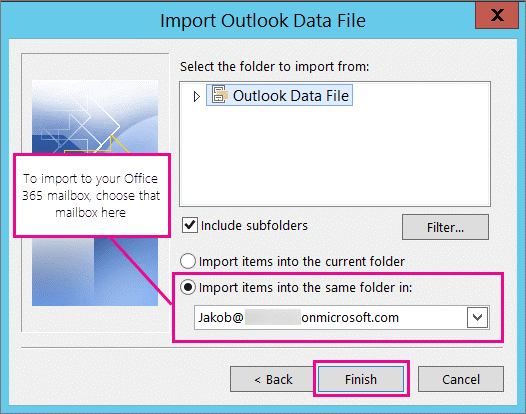 It is how you can transfer Outlook to Office 365.
Drawbacks of the Manual Solution
How do you find the abovementioned manual solution? Many of you may not like the idea of conversion because it is time-consuming.
Need installation of Thunderbird and MS Outlook.
The solution doesn't work with large size PST files.
It allows you to migrate a single file to Office 365.
Data loss risk is always here.
The process consumes time and can hamper work productivity.
The solution is not useful if you have a bulk of Thunderbird files to export to Office 365.
You may notice missing attachments with MBOX files.
Automated Conversion of Thunderbird to Office 365
Manual solutions come with negative results more than positive ones. Therefore, several users like to choose a third-party program. One such application is DailySoft MBOX to Office 365 Exporter. It is an advanced application to extract Thunderbird data to Office 365 without the need of Outlook and other applications.
Prominent Features of the DailySoft Tool
The app allows users to export multiple Thunderbird files to Office 365 at once. Hence, it saves time.
The application exports Thunderbird emails to Office 365 with their attachments. Hence, it offers complete conversion.
The utility automatically connects with the targeted Office 365 account after providing its credentials.
It saves the exported data to an existing folder specified by users or create a new folder to save data.
The app restores the original properties of emails by exporting emails with all meta properties intact.
It is an independent conversion program to run on your system.
The tool is lightweight and bug-free to install and run.
It prevents leaking of your data.
The licensed version offers unlimited conversion of Thunderbird to Office 365.
Conclusion
Overall, Thunderbird to Office 365 Conversion is a great idea to import Office Thunderbird mbox to Office 365 . It helps restores your data on cloud. It prevents data from hacking because office 365 is a robust application.