The IT market offers a range of email clients. Some are mainly for mail management, and some are beyond an email client. HCL Notes and Outlook are excellent applications and more than a mail client. However, HCL Notes is dedicated to enterprises, whereas Outlook is for everyone, including individuals and businesses.
You can Convert bulk Outlook OST files to HCL lotus notes NSF files, if you want a dedicated enterprise-based email client. The article reveals a magnificent solution to export OST to NSF HCL Lotus Notes with some incredible features of Lotus Notes.
Prominent Features of HCL Notes
Like Outlook, HCL Notes is more than an email client. You can use the application for sending and receiving emails, storing emails strategically, creating tasks, storing contacts, journals, and much more. It allows you to use it as an electronic workflow application for creating requests, processing requests after the approval is granted and notifying approvers via e-mail.
Do you know applications designed for Lotus Notes have used open standard technologies, like Java, HTML, JavaScript, and LotusScript? Developers who have knowledge of these open-source technologies can produce better output from Notes.
Domino server supports a variety of operating systems. The server helps find control in accessing email security and app databases. It offers robust quality. You can run the Domino server on IBM System i and z. The Notes supports Windows, Mac, SUSE, and Linux operating systems. Microsoft has designed Outlook for Windows and Mac users. However, Outlook supporting Windows is not available to download on Mac and Linux.
For compatibility, Notes can outperform Outlook. Users can run Notes Version 1 (produced in 1989) in the current Notes 8 without conversion or rewriting the app. In other words, the app doesn't demand enhancement of features and is compatible with its versions.
Do you know you can work on Lotus Notes offline and online? You can access important emails, contacts, and other databases on Lotus Notes without a network. The email client avails the feature by replicating data between local versions and the server of your apps and mail files. It is one of the oldest features. Like OST for Outlook, Notes can synch its data to a server as the server connection establishes.
Several times, Notes has declared that it is not dead. It is still one of the safest email clients to use.
Dailysoft OST to NSF Converter
If you have Lotus Notes pre-installed but not Outlook, you can use the conversion program. It converts all components of OST files to NSF quickly and accurately. One of the fun facts about the Outlook OST to NSF Exporter app is that it doesn't require you to equip with technical skills. It means users with basic technical skills can run the program without technical assistance. The free demo of the program is available to install and measures the app's capacity before getting its license.
Steps to Use for Conversion Using DailySoft Outlook to Lotus Notes Converter
Download and launch the application
Add OST files by browse files/folder one by one
Get the preview and choose the folders of your choice
Select the NSF file format and the output to save data locally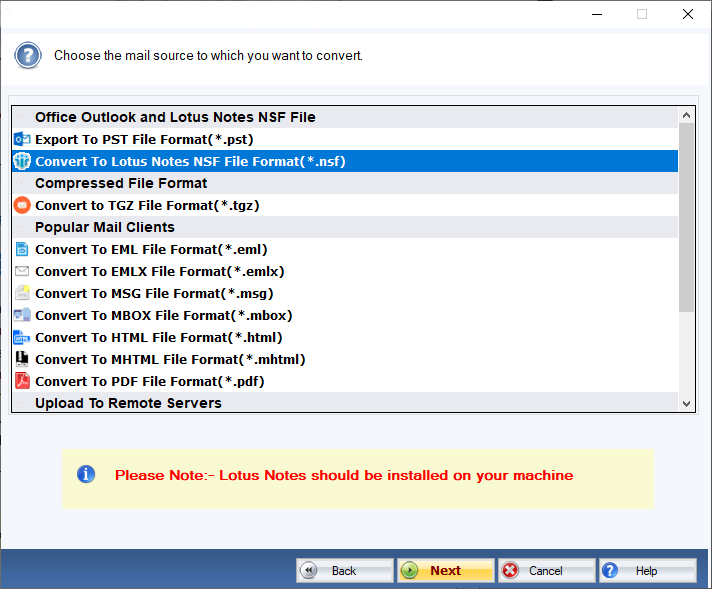 Press the Convert tab to complete the process
Let's understand why users like DailySoft OST to NSF Converter
Unlimited License Validity
Unlimited license validity stands for unlimited conversion. You can use the app to export as many OST files as you desire. You can use the app for an unlimited duration or as long as you want. There is no restriction to using the program.
Bulk Conversion
Your requirement for bulk conversion can meet by using DailySoft OST to NSF Converter. The app supports the export OST to NSF files unlimited. Users can select and export single or Convert bulk Outlook OST files to HCL lotus notes NSF files. Bulk conversion saves time and effort for users.
Complete Conversion
When you choose a manual solution for conversion, the complete conversion goal seems unachievable. The utility exports emails, contacts, notes, and journals with their rich-text formatting. It reads and exports non-English characters. Emails can export with their attachments regardless of whichever format you use, like PNG, GIF, and JPEG.
Custom Conversion
One of the most striking features of the app is custom conversion. You have full control over exporting selective OST files. Moreover, you have found an optimum level of control in exporting required items of OST files. The preview pane displays all OST files with their folders and items. Here users can select the folders they want to export. Thus, the app supports custom migration.
Also Read- Convert HCL Lotus Notes .nsf to Outlook .pst files
Conclusion
Conversion of Outlook data to Lotus Notes can be possible through manual and automated solutions. Manual conversion solutions are limited and have risks of data loss. Therefore, users like to choose a third-party utility. A reliable and professional conversion utility can simplify the conversion process. It gives speed to conversion.