Summary: Conversion from Thunderbird to Lotus Notes is your goal. If so, you have dropped to the right link. In this article, we cover reasons why users like to switch from Thunderbird to Lotus Notes and explain the solution to export from Thunderbird to Lotus Notes accurately and quickly.
Thunderbird is an open-source. It helps users to send and receive emails. It also allows users to create contacts and tasks. For small organizations, the open source is helpful. But when it comes to handling emails professionally, a professional tool is required. At that time, you can require conversion of Thunderbird to Lotus Notes.
Lotus Notes is a professional application. It is backed several organizations for their day to day emails, contacts, notes, journals, and tasks. Lotus Notes is now HCL Notes. It is a safe and professional email client.
Reasons Why Users Like to Export from Thunderbird to Lotus Notes
Need of Multitasking: If you are planning to switch from Thunderbird to Lotus Notes, you may be looking for advanced support for your emails, contacts, notes, journals and events. Lotus Notes promises to provide the best platform for your professional needs.
Collaboration: Lotus Notes can facilitate collaboration within teams, making it one of the best applications for businesses. It allows safe work collaboration with colleagues. Sharing data from one Lotus Notes account to another is easy. It can provide a powerful and efficient platform than Thunderbird.
Security: Have you ever thought of security. Thunderbird also offers robust security. Lotus Notes is also popular for its strong security features, including encryption, access controls, and other measures to protect data from unauthorized access and theft. If you want confidentiality in emails, Lotus Notes can meet your needs.
Integration with Other Applications: Lotus Notes allows users to integrate the application with other applications and systems, including IBM's collaboration tools. If you are using other applications of IBM, the collaboration feature is useful for you.
Customization: The platform offers a high degree of customization, allowing users to tailor their account as per their needs and workflows. Hence, it is a useful feature for businesses.
Reliability and Stability: It is a stable and reliable platform that is offering its services for years. Though the ownership has changed, Lotus Notes is still one of the most popular email management applications.
DailySoft MBOX to NSF Converter- The Fastest Medium for Conversion
If you are in the search of the fastest and reliable ways to move Thunderbird data to Lotus Notes, DailySoft MBOX to NSF Converter can be one of the best applications to consider. The app can export single and multiple MBOX files to NSF. During conversion, there is no alteration of email data. The app retains the original structure and whole components.
Features of MBOX to NSF Converter
User-Friendly Interface: The tool has a simple and user-friendly interface. Hence, it makes the conversion process easy. It simplifies the needs of conversion. The app is accessible to users with any level of technical expertise.
Batch Conversion:  It is the significant feature of the app. By allowing conversion of single and multiple MBOX files, the application saves time and effort of users. It also reduces the level of stress for conversion..
Accurate Conversion: Batch conversion doesn't lead to data loss. Hence, users don't need to compromise with the quality. Every time, the output of the app is accurate. It exports emails with their attachments.
Compatibility: The conversion program is compatible with all major MBOX-based email clients, including Apple Mail, Thunderbird, and Entourage. It is compatible for conversion of all versions of IBM Lotus Notes, making it a versatile tool for users.
Steps to Run the Program
Download the application and run with just one click
Select MBOX file format from the given list and press Next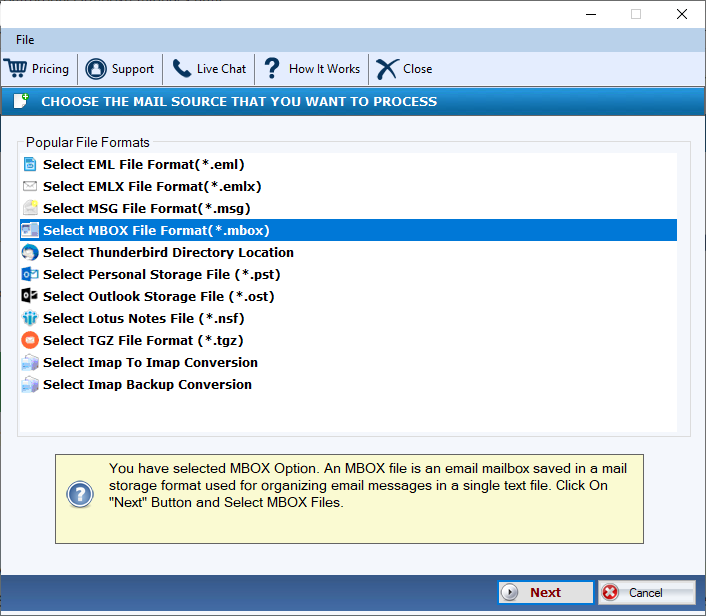 Now, select the MBOX files by clicking on the Browse button and press Next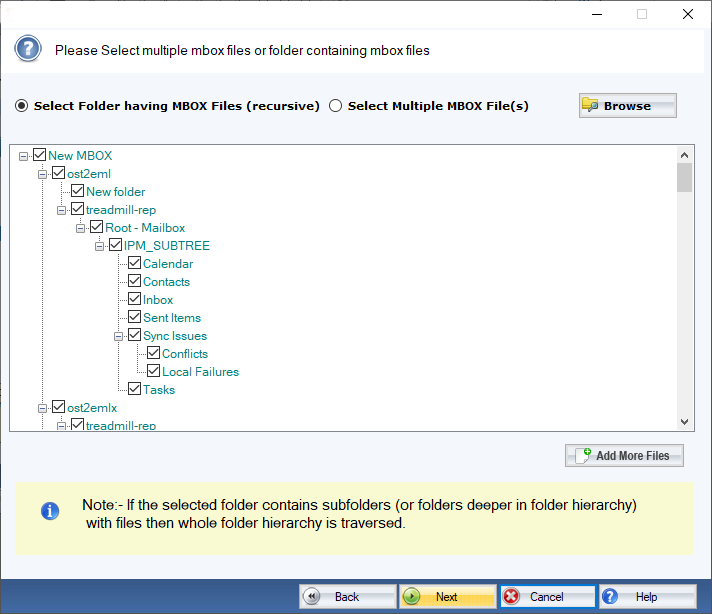 After that, select NSF file format and press Next
Now, select a suitable output location and press the Convert tab to complete the conversion process.
Conclusion
Conversion with the help of this third-party application is easy and fast. You don't need to look for other options to export Thunderbird to Lotus Notes while using this application. Download its free demo version to know how it's works.